2014 IBA Birdathon Report
The pressure is on to beat 206 species sighted on the 2013 birdathon! 
Taking it to a new high! – Report on 5th annual Maryland-DC IBA Birdathon, May 9-10, 2014
This year's Birdathon followed on the heels of a very successful day last year in which we recorded 206 species. So, naturally, our unofficial goal this year was to beat that total. I was convinced that we couldn't do it, believing the late and cold spring may prove an impediment. Our team was the same, with Bill Hubick, Matt Hafner, Mikey Lutmerding and myself following a very similar tightly scheduled plan as last year - a 24-hour noon-to-noon race across Maryland, beginning on the lower Eastern Shore, ending in the Appalachian region of Garrett County, and using the night-time hours for the drive across the center of the state. And of course the larger goal of the Birdathon was to raise vital funds for Audubon's signature bird conservation program, Maryland's Important Bird Areas.
We began at the Preston Water Treatment Plant (a site with restricted access), where a Mute Swan provided an early bonus, and then moved on to the larger water treatment facility at Hurlock, where exposed mudflats attracted a nice diversity of 10 shorebird species, including Least, Solitary and White-rumped Sandpipers, Dunlin, Semipalmated Plovers, both Yellowlegs species. At Deal Island we tallied most of the salt marsh specialists including Seaside Sparrow, Clapper Rail, Northern Harrier, Black-necked Stilt, and also great views of a Peregrine winging across the marsh. At 3:09 pm our list reached 100 species.
Heading inland to Pocomoke-Nassawango IBA we turned our attention to forest birds at this largest forest habitat block on the Delamarva peninsula. We enjoyed a very efficient series of stops with the target species dutifully singing or making an appearance. These included several Audubon/American Bird Conservancy WatchList species known to have significant populations here - Prairie, Prothonotary and Kentucky Warblers, and a pair of Red-headed Woodpecker putting on a good show at their nest cavity.
As we birded our way along the Coastal Bays of Worcester County shorebirds became a major theme of the day. At Truitt's Landing we looked across the fresh green Spartina salt marsh grasses at the large mudflats and marveled at the huge flocks of migrant shorebirds. Among the 5,000+ birds, mostly Dunlin and Least Sandpiper, were a few Short-billed Dowitchers and Stilt sandpipers, and a Whimbrel flew over giving its distinctive call of seven whistles. Further north at Figgs Landing Road we were treated to a rare sight, over 800 Black-bellied Plovers in a farm field with an even rarer sight, a Buff-breasted Sandpiper, among them. This is one of Maryland's first spring-time records of this species. In the pools here were two late-staying ducks, Common Goldeneye and Hooded Merganser, which gave our list an unexpected boost.
We approached Assateague Island with great anticipation but found the sea covered in dense fog, limiting our sightings to some Least Terns, a flock of 7 Red Knots resplendent in full breeding plumage and sanderlings feeding on the beach. We were luckier with a search for late-staying winter birds at the bridge from Assateague back to the mainland and at the Ocean City Inlet. All three scoter species were still in evidence including 60 Black Scoter at the inlet an unusual abundance for early May. Purple Sandpiper, Brant, Horned Grebe, Common and Red-throated Loon and Red-breasted Merganser all helped to grow our big-day list. After our customary twilight stop at Skimmer Island, we stopped to pick up a much-needed pizza and then visited Elliott's Island Road which traverses the largest block of salt marsh in the state in the Southern Dorchester County IBA. Here, in the darkness, we managed to hear no less than 7 Common Gallinules (I still prefer the name Moorhen!) and a brief call from a Black Rail, before setting off westwards across the state to the Appalachian highlands.
Dawn the next day at Finzel Swamp was cool, foggy and somewhat birdless, although we picked up a few new species (Northern Waterthrush, Ruby-crowned Kinglet, Wood Duck, Veery), so we proceeded to Piney Reservoir where 3 Soras were calling from the marsh vegetation and a Ruffed Grouse gave us excellent views on nearby Piney Run Road.
As we toured our familiar route around the birding hotspots of Garrett County the seasonal contrast with the Eastern Shore locations we visited yesterday was stark. Much of the forest on the Appalachian plateau was still bare of foliage. However, trees on south-facing slopes and lower areas were leafing out and all the expected birds were cooperating very well, as were the more unusual species scouted on previous days. At New Germany State Park, resident Appalachian specialties like Golden-crowned Kinglet, Blackburnian Warbler and Purple Finch were joined by a migrant Bay-breasted Warbler. A Sharp-shinned Hawk was a nice find, and helped us out by chasing a Broad-winged Hawk above the road. At the new Cunningham Swamp Wildlife Management Area, recently opened by Maryland Department of Natural Resources, we got our Raven but did not find any Golden-winged Warblers.
Remaining wintering species included a Ring-necked Duck on Little Meadows Lake, two Lesser Scaup on a pond by Bittinger Road and a Red-necked Grebe on Broadford Lake.
Jennings Randolph Lake proved to be a productive stop for migrants and forest-dwelling summer residents, the foliage and the birdsong increasing with the drop in elevation along Mount Zion Road. Along this road, we counted 14 singing Cerulean Warblers, the signature species of this Important Bird Area. Other new species for our Big-day list included Black-and-White Warbler, Hooded Warbler, and Cliff Swallow. As we left this site, Belted Kingfisher, Northern Rough-winged Swallow and Vesper Sparrow boosted our list further, and we realized with great delight that we had beaten last year's Birdathon total!
Our final stop was at Deep Creek Lake where we scanned the waters for migrant ducks, grebes or terns, but found no new waterbirds for the list. Instead two Palm Warblers perched in lakeside trees below us became the final birds to be added…..species 213! This total is only one species less than the all-time highest Big day total for Maryland. How are we going to beat this next year!
We had covered nearly 700 miles and visited 11 of Maryland's 42 Important Bird Areas, a perfect reminder of what are efforts were really for. Thanks to all who made a pledge to this year's Birdathon and supported the IBA program – this support makes Audubon's bird conservation work possible. Please visit us online at https://give.audubon.org/Giving/Page/81/1/81 to fulfill your pledge if you have not already done so. And if you have not yet made a pledge it is not too late to do so at the link above.
Good Birding!
David Curson
Director of Bird Conservation, Audubon Maryland-DC
How you can help, right now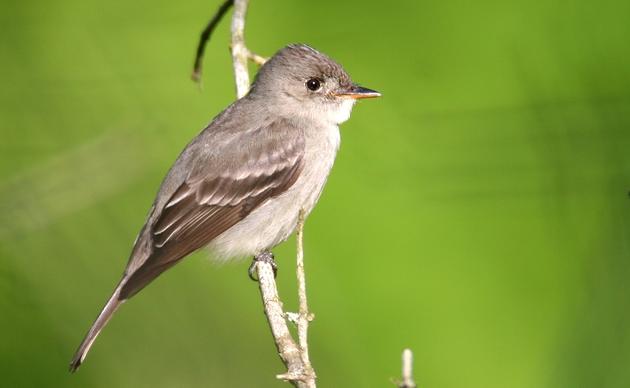 Make a Monthly Gift
Make helping birds easy with monthly giving. Become a member of the Cardinal Club today! Select Audubon Maryland-DC in the drop down menu.
Birds Need You!
Get involved in helping to preserve our birds and their habitats today. There is something for everyone!