From your favorite oriole to backyard warblers, birds depend on native plants for natural habitat, food, and nesting materials. Native plants are not just better for birds and other wildlife; they are also integral in maintaining a healthy ecosystem and contributing to beautiful communities, a cleaner Chesapeake Bay, and resilience in the face of climate change. These bird-friendly plants also save water, reduce the use of harmful pesticides and chemicals, and can reduce the cost of grounds maintenance.
Baltimore Mayor Brandon Scott and Baltimore City Council agree! On May 5, 2021, Audubon celebrated the signing of the Mayor's Native Plants Week proclamation and the City Council's Native Plants for Birds & Baltimore ceremonial resolution in the bird-friendly gardens of Patterson Park.
The occasion was celebrated with a planting in the Wetland Garden in Patterson Park, led by Audubon's Green Leaders, middle school advocates for Baltimore's birds and communities. A brief ceremony followed at the Pollinator Garden with remarks from elected officials, including Del. Robbyn Lewis and Councilmember Zeke Cohen as well as Patterson Park Audubon Center's director, community fellow, and two Green Leaders.
Showcasing the "power, passion, and enthusiasm to fight for the planet," as described by community fellow Nicho Nguyen, Green Leader and sixth-grader Olivia Wesby kicked off the remarks, sharing, "We need more gardens, we need more plants, we need more green, we need more helpers in this park, and we need to produce less carbon dioxide."
"We are caretakers, together, of our green spaces. I am committed to continuing to work with you, to make a better planet," said Delegate Robbyn Lewis (46th District). "My urban garden is an Audubon bird-friendly habitat, which means I use native plants to attract and support local wildlife, our birds, butterflies, and bees. It's about 12 feet wide by 22 feet deep on a concrete slab. If I can have a native, bird-friendly garden here, you can too. If every one of us creates a garden across our city, that is good for us and the creatures we share it with."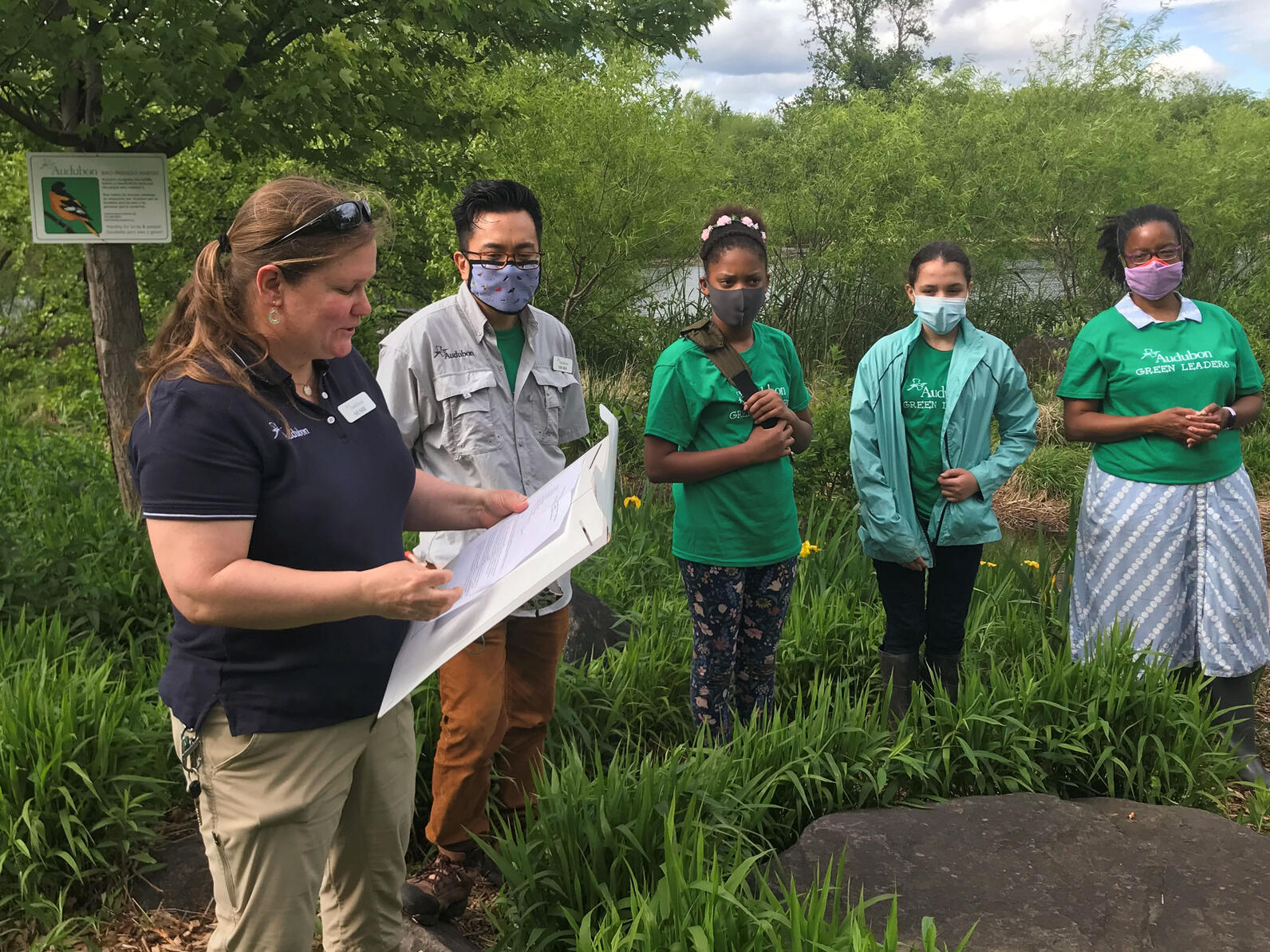 "Audubon's Green Leaders remind us how important it is to protect our environment, to support all species of birds, and to really do the right thing by our planet," said Councilmember Zeke Cohen (1st District). "What Audubon's Green Leaders said today hit home for me because I have a son and a daughter, and I want them to inherit a world that is clean, where they can breathe. Young people are the leaders and continue to tell us what they need. Young people have told us in City Hall to ban plastic bags and Styrofoam, and we did it. So much good work is coming from our young people."
Patterson Park Audubon Center will host a virtual celebration on social media from May 10 – 15 to share the news and the importance of native plants for birds and communities. The video series will feature Mayor Brandon Scott, Delegate Robbyn T. Lewis, Councilmember Zeke Cohen as well as neighbors and partners at Blue Water Baltimore, Comité Latino de Baltimore, Waterfront Partnership, and Interfaith Partners for the Chesapeake.
Follow the fun and share the news at Patterson Park Audubon Center on Facebook and @Audubon_PattersonPark on Instagram! For more information on how to create your own garden for birds, visit https://patterson.audubon.org/programs/bird-friendly-communities.